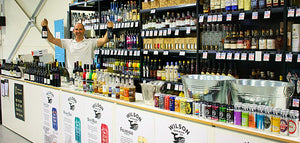 As social distancing hits businesses and confines many of us to our homes, one clever business is gearing up and taking their business to their customers.
Farrah's Liquor Collective has launched a new online store, making their vast stock of wine, beer, spirits and liquor available for home delivery.
"Online is so important while everyone is stuck at home, so we have set up our store online to help bring the producers to our customers' doors," owner Matt Farrah said.
Farrah's Liquor Collective was founded in 2019 with a commitment to source and stock wines, spirits and craft beers that have been made with passion, and sell directly from the producers and pass the savings on to customers.
"Online or in-store, we have no limits on our stock unlike other retailers at the moment. If you want to stock up and we have it in stock, you can buy it. At the moment, our warehouse is pretty full but you may need to get in quick or risk missing out," Matt said.
Matt says online orders will still get in-store pricing, and their 10 per cent discount for buying 12 bottles of wine or more will still apply.
"We will deliver free to the door of Canberra residences for the time being to help all Canberrans get their liquor as cheap as possible."
Farrah's Liquor Collective staff will ensure social distancing measures and precautions will be applied for all deliveries.
"Order from the comfort and safety of your own home, our staff will respect all customer's safety and ring the doorbell. If no one is home we will take a photo of the delivered product and text the pic to the customer so they know their order has arrived.
"Our new delivery service has been speedy. Most orders are going out within four hours but, with the massive increase in sales due to people stockpiling, some may take 12 to 24 hours."
Farrah's Liquor Collective's Fyshwick store remains open 7 days.
"Unfortunately, tastings will be suspended until the COVID-19 pandemic is over but we will still be able to offer advice so our customers can still feel safe that they will enjoy what they are buying."
Order online at Farrah's Liquor Collective.
This article was originally published on Region Media - 
https://the-riotact.com/new-online-store-delivers-locally-produced-liquor-to-canberra-homes/366319