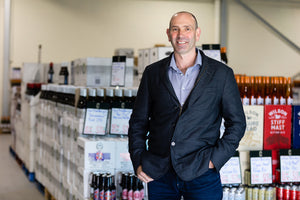 Founding a new liquor outlet bigger than the quarter acre house block in Fyshwick, Matt Farrah's effervescent confidence flows from a deep foundation.
Poles apart from supermarket liquor stores replicated across the country, Matt's range of Australian craft beers, wines, and spirits offer taste, value for money and fun.
This is business done simply. The fun comes from Matt having met face-to-face the producers he is representing at Farrah's Liquor Collective, and talking about their wines and beers at weekend tastings.
His passion for offering a different experience springs from generations of retailing and a conviction that today's retailing – especially in the liquor industry – can be done so much better.
His parents and their parents retailed menswear and womenswear for more than 80 years but Matt decided to go in a different direction. Finishing school, Matt left home in Albury, obtained an administration, economics and marketing degree at the University of Canberra and studied the liquor industry.
He peppered wine makers with questions at wine dinners and tastings. He learned how to break down wine flavours depending on what wood, yeast and methods were in their creation. Discovering the fun of the liquor industry, he opened his own shop in Campbell until his eyes were opened to the wonders of wine-making in New Zealand.
There he found wine producers worked together to bring the Marlborough brand to the world.
"The varieties produced in volume, including pinot gris and sauvignon blanc, are world beaters because they have concentrated on doing the same message," Matt says.
He couldn't wait to get his hands into the soil, and with a couple of mates planted 800 acres of vineyards. This is where that aforementioned fountain comes from – the hands-on knowledge of everything from growing the grapes to winemaking, production and brand building, distribution and wholesaling.
A partner in Pear Tree vineyard production company in New Zealand and affiliated with Mr Smith brands, Matt happily talks up their wines including Pear Tree, Waihopia, Little Black Stone, Beachwood, Mr Smith, Off Road and Farrah Estate.
Helping him at the liquor collective is Ray Hounsell, a young beer enthusiast who left a larger retailer where he was restricted in what he could sell.
When told of Matt's model, Ray said: "Oh my god this is what I want. I want to build one of the best Australian craft beer ranges in Canberra, if not Australia.'' (Ray has an Instagram following of 34,000).
The recent sale for $16 billion of Carlton United Breweries underlines the consolidation of the major brewers in Australia. But it has failed to slow the rising popularity of craft beer. Matt says Australia now has 632 craft breweries underlining a regionality trend, where people have learned to appreciate and seek out a region's produce.
"People don't want to be drinking the mass-produced products," Matt says. "To be inexpensive, [big breweries] rely on volume and cannot control the quality like you can doing smaller batches.
"People looking for a point of difference to celebrate it."
Farrah's Liquor Collective is not fancy. "It never will be a fancy place, because I just want to deliver extraordinary prices on fantastic quality products," he says.
"Now that we know what the people want we will have our grand opening and start building the product to match what the customer is looking for. I am sick and tired of going into stores only to find what their shopkeeper wants to put in, or is told to put in."
He described his model as the 'Facebook of liquor stores'.
"We work with everyone and share information, whether it is from customers or suppliers, and helping out Australian small-batch breweries that don't have any access to the market, they can use me as a wholesale point," Matt says.
He has stripped out all possible costs in retailing, from paying for a brewery and wine merchant reps to marketing, to make savings on everything he sells, and is relying on word-of-mouth and social media.
Farrah's Liquor Collective's grand opening is at 9 am on Saturday July 27, at 8 Townsville Street, Fyshwick. Food, entertainment, and more than 100 products on tasting. Find three golden tickets in three different cases of wine four fantastic prizes!
This article was originally published on Region Media - 
https://the-riotact.com/craft-producers-toast-matts-commitment-to-flavour/314380