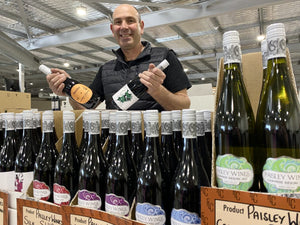 Twenty boutique wine, beer and spirit makers from the Canberra region and interstate will showcase their wares during the Farrah's Liquor Collective's third birthday celebration.
Whether you prefer red, white or bubbles, there will be plenty of quality wines available to try and buy at reduced prices.
And with such a huge selection of boutique beers and hand-crafted spirits and liqueurs, even the most discerning palette will be impressed.
Farrah's Liquor Collective owner Matt Farrah says he has some crazy deals available during the birthday bash to celebrate and show off the producers he has formed great relationships with over the past three years.
On Saturday, 23 July, there will be around 120 products available for tasting, and customers can meet the makers and find out what makes their wine, beer or spirits unique.
"The place will be heaving on Saturday because we've got so much planned," Matt said.
"People can taste a wide variety of drinks, from 11 am until 5 pm, and we'll have food vans as well, so there will be plenty for people to try.
"We're so excited to offer this opportunity for the public to meet the winemakers, brewers and distillers from around the Canberra region and all over the place."
Canberra's Ambrosia Distillery, which produces a selection of contemporary gins and flavoured vodkas, including toffee, coffee, lemon myrtle and apple cinnamon, has recently jumped on Farrah's bandwagon and owner Andrew Galbraith is looking forward to offering his products to the public.
"I partnered with Farrah's mainly because they seem like genuinely great people to work with and their store offers a huge range of spirits without hiking up the prices unnecessarily. And they're a two-minute drive from my distillery!" he said.
Michelle Burns from the Aisling Distillery in Griffith will showcase their range of small batch premium Single Malt Whisky, rum and gins, while Paul Turner from the Canberra Distillery will have their whole range available for tasting.
The distillery opened in 2015, teaming up with Farrah's when the doors opened three years ago. Paul says he is thrilled to be part of the birthday celebrations.
"I started with them straight away because I liked their business model and their different way of doing things," he said.
"It's definitely great to have a local business pushing out the local Canberra products like ours.
"People can come along on Saturday and taste six of our gins as well as five liqueurs and our popular Negroni cocktail mix."
This year's birthday sale and tasting event is expected to be bigger than ever, with last year's hosted online due to COVID restrictions.
To celebrate, Matt says customers can grab a great bargain across Friday, Saturday and Sunday both in-store and online, with delivery available.
Farrah is offering 20 per cent off all wines with the purchase of 12 bottles or more and 20 per cent off all beers.
"The discount is on top of our already amazingly competitive prices," he said.
He's excited about showcasing the range of Paisley Wines, which he says represent fantastic value, and also a limited stock of Morish 2018 shiraz from the Barossa Valley, which normally retails for around $70 per bottle, reduced from $20 down to a "crazy" $16 per bottle.
"This is a gorgeous shiraz that I'd be happy to pay $70 for. At $16, it's an amazing price, but we have limited stock available," Matt added.
He says the sale is becoming a highly anticipated Canberra tradition and is the ideal chance to stock up the wine cellar or home bar with premium products at ridiculous prices.
Matt and the expert team taste and hand-pick all of their products and can help customers choose wines, beer and spirits that suit their individual tastes.
Pop in and check out the bargains or visit Farrah's Liquor Collective and order from the comfort of your lounge room. To join the birthday celebration, get down to Farrah's Liquor Collective at 8 Townsville St, Fyshwick, on Saturday, 23 July.